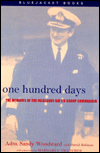 This past weekend I finished reading Admiral Sandy Woodward's book covering the operations in the South Atlantic. It is one of the better military memoirs I have read, and did a great job of providing insight into just how difficult an operation it was to take back the Falklands. In addition to fighting the Argentinians, they were in a race with Mother Nature as winter was fast approaching in the Southern hemisphere. My guess is that General Galtieri thought the British wouldn't be able to react quickly enough before winter arrived allowing the Argentinians time to consolidate their positions.
One thing that surprised me in the book was how unreliable the Argentinian bombs were, and how unreliable the British anti-air systems were. It seemed like in the majority of cases, the bombs that the Argentinians managed to hit ships with didn't detonate. For the British there were many technical problems with both the Sea Dart and the Sea Wolf systems getting confused and refusing to prosecute incoming targets.
Woodward does a good job highlighting the difficult decisions a commander must make that will effect the lives of many people, and how they have to shrug off events that have taken place and carry on. I would highly recommend the book to anyone with interest in the subject, or in naval matters. I plan on getting a copy of Commodore Clapp's book on the landings at San Carlos Water, and will be looking for a book that goes into greater detail over the land campaign.